spektakel 04/04/08
projektbeitrag für die ausstellung unORTnung III

copyright © motu 2008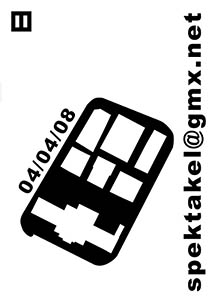 projektbeschreibung:

mein projekt ist die ankündigung eines spektakels!
ziel dieses spektakels ist es, den unORT genochmarkt in form von spuren, die sich über ganz wien verteilen, zum thema zu machen.

die ankündigung des spektakels geschieht durch plakate im öffentlichen raum und durch email-aussendungen.

ort des angekündigten spektakels ist der genochmarkt. die genauen koordinaten bekommen interessierte via internet zur verfügung gestellt. sie schreiben an spektakel@gmx.net.

das angekündigte spektakel ist ein fiktives, und so wird der besucher unwissend selbst zum akteur und gestalter des spektakels.

die plakate sind 1500 mal über das zentrum von wien angeschlagen. 500 mails wurden verschickt. alle zeigen auf den 04/04/08. die spuren davon werden im öffentlichen raum von wien noch lange lesbar sein.

das projekt spektakel 04/04/08 ist ein beitrag zur ausstellungsreihe unORTnung III.


project description:

my project is the announcement of a happening.
the goal of this happening is to increase the visibility and acknowledgement of 'genochmarkt' (a location on the periphery of vienna) in the central area of vienna proper. this will be accomplished by leaving 'traces' of genochmarkt.

the announcement of the happening will take place through posters placed in the public spaces of vienna, along with an email campagin. the happening will take place at the 'genochmarkt,' and the exact coordinates will be delivered via the internet.
interested visitors will write to spektakel@gmx.net.

the announced happening is, however, a fictional spectacle. unkowningly, visitors to this 'fictional' spectacle will turn themselves into actors and creators of the happening.

there will be 1500 posters distributed across the center of vienna, and 500 mails have been sent. all advertisements of the spectacle refer to the date of 04/04/08.
the remnants of these advertisements will be readable for a long time in the public spaces of vienna.

link: unORTnung III